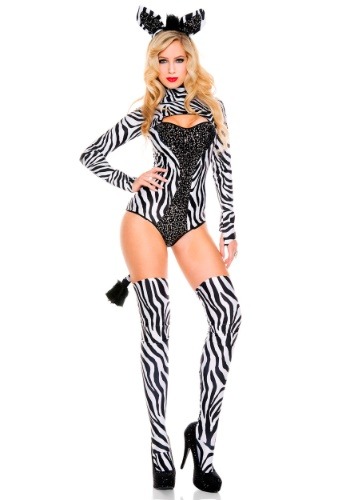 Sexy Women's Zebra Costume by HalloweenCostumes.com
Galloping GoddessTaking average costumes and giving them a sexy edge gives this girl life. In fact, she views her new endeavor as a fun and exciting challenge. Adding 'sassy costume alteration strategist' to her long list of personal hobbies, this fashionista's eye for spotting new trends is coming to the realm of Halloween and she can't wait to show off her skills. She put her undeniable talent on full display by transforming a regular Big Bird costume into the most alluring women's Big Bird costume we've ever seen which says a lot since we've seen tons of Muppet costumes. It made us view yellow feathers in a whole new light. This stylish costume guru has accomplished similar feats with a Demogorgon costume! (We didn't think it was possible either until we saw what she created!)Product DetailsHer latest innovation is this sexy zebra women's costume. The one-piece makes women not only look like an exotic animal but it also creates a captivating edge that other zebra costumes lack. The striped teddy fastens via a partial zipper in the back and a sequin panel in the teddy's center adds a pop of sparkle to the otherwise all black and white costume. The keyhole cutout is a stylish costume aspect that fellow fashionistas will recognize and applaud. The thigh-high stockings are extremely stretchy and the included headpiece features ears and a fuzzy mane successfully completing the wild look.A Sassy StampedeIf you're an animal lover with an affinity for the latest fashion then this is the costume for you. Hit the town with your clique of fellow style-savants all dressed as sexy animals and form the sassiest stampede the world has ever seen. Our sexy giraffe costume and wild tiger costume make fierce additions to any safari-themed squad.
Price: $
49.99
Condition:
new
Thank you for shopping with Sexy-Halloween-Costumes.com, the best place to find high quality sexy halloween costumes.