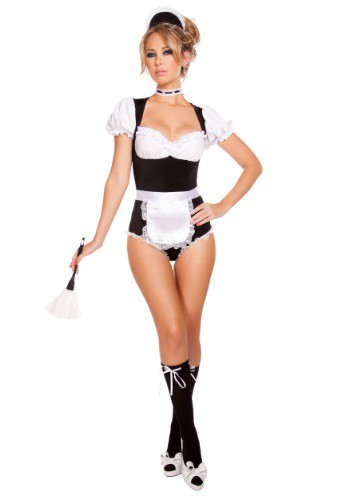 Women's Foxy Cleaning Maiden Costume by HalloweenCostumes.com
We're guessing your client is going to be quite surprised when you show up to the door for the cleaning appointment. Your client list is sure to go up once they catch a glimpse of you in your new and updated cleaning outfit! We do have to warn you though, with this sexy little number there won't be any extra room to store those cleaning supplies.This hot ensemble has a little bit of lace and reveals a whole lot of skin. Resembling the traditional French maid costume we've given it an upgrade with a bit of a material downgrade. But to be fair, this maid really works up a sweat while she's cleaning. There is a lot to be done: vacuuming, dusting, mopping, and of course, sweeping! You've got everything you need to make sure those houses are spick and span including a feather duster that's included in our costume.Better keep your phone charged, it will be ringing off the hook once word gets out of your new uniform. With this sexy look, you are not going to be the cleaning lady that any one is used to, you are one in a million! Add a pair of our white or black stocking and your sexiest pair of heels and you will be one cleaning lady they will be excited to call week after week. Getting dirty never looked so much fun!
Price: $
59.99
Condition:
new
Thank you for shopping with Sexy-Halloween-Costumes.com, the best place to find high quality sexy halloween costumes.